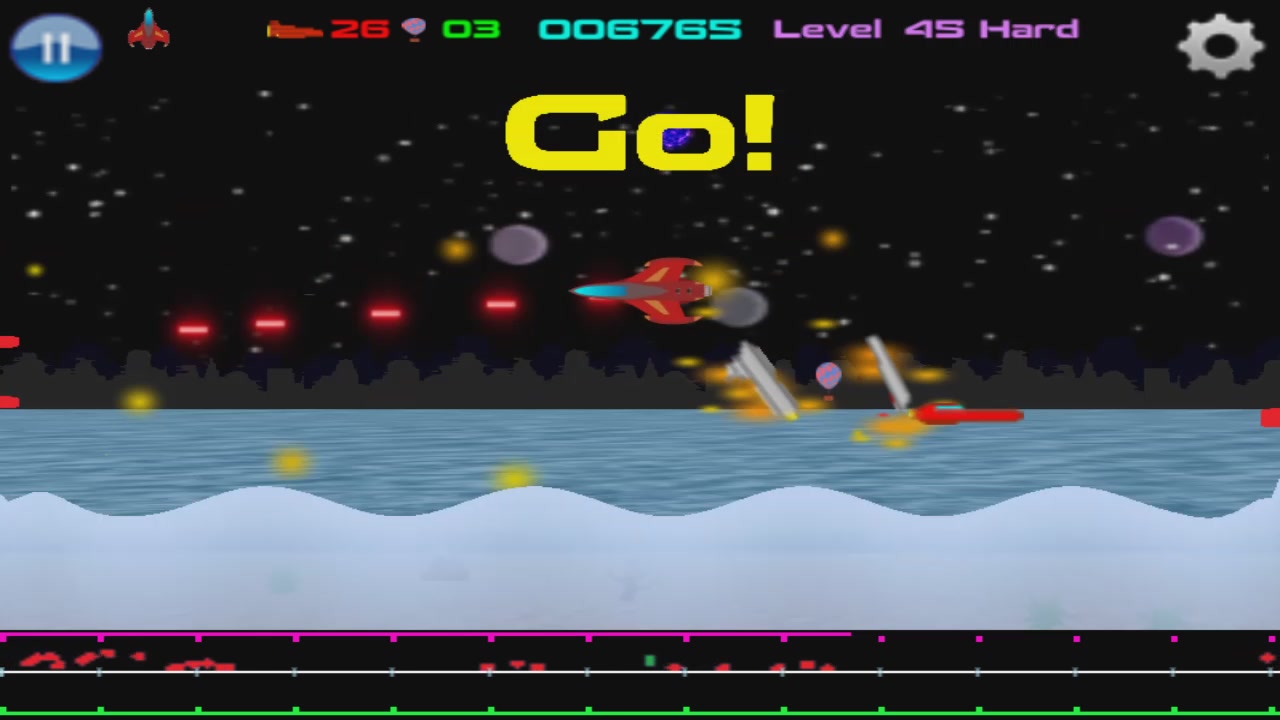 Hydrotron (Windows, Android)
A downloadable game for Windows
Hydrotron on the Google Play Store
A free shoot 'em up arcade game inspired by 80's classics like Aquatron & Defender. Pilot your submersible Starfighter day and night to defeat alien enemies who have taken over a planet mostly covered in water.
With rich 80's style graphics, interactive water, and a full set of 2.5D background elements, Hydrotron is an immersive fast-paced jump-in-and-shoot sure to satisfy any vintage gamer.
Highlights
A 2D water wave that changes phase to simulate horizontal motion and interacts with game elements to make waves and splashes.
The player has four way directional controls in an infinitely repeating horizontal world – up into the air, down underwater, and left or right.
Enemies wrap around the world horizontally, just like in classics like Aquatron & Defender.
Each level presents increasing resistance from the enemy fighters, cruisers, submarines, and interceptors.
All enemies must be destroyed before advancing to the next level; but be warned most enemies have two lives. When they explode, they drop a parachute that will turn into a submarine if it reaches the water line. Cruisers also periodically drop parachutes regularly so keep your eyes peeled!
There is no defined end level; play until you can't take it anymore!
Beautiful soundtrack matches the action perfectly.
Saved game is ready to be continued on-the-fly for jump-in-and-shoot action.
Blast your way to one of the 10 high scores and enter your initials 80's style!
Totally optional video reward ads are available to receive a second player life per game for 5 games.
A complete set of options offers players the ability to tune movement sensitivity, music and effects volumes, and detail level to support older devices and player preferences.
Coded by a long time programmer dedicated to real world testing and satisfying his own gaming itch, Hydrotron is built and tuned for smooth performance up to high levels which even the designer cannot get past.
LifeStamp Games is very interested in constructive feedback to help make our games better!
Future directions for Hydrotron include:
- Bases every few levels which spawn power-ups
- Alien intruders that are more nasty than interceptors!
- Shields
- Enhanced submarine motion
Download
Click download now to get access to the following files:
Hydrotron.zip (Windows, No Ads)
62 MB
Also available on