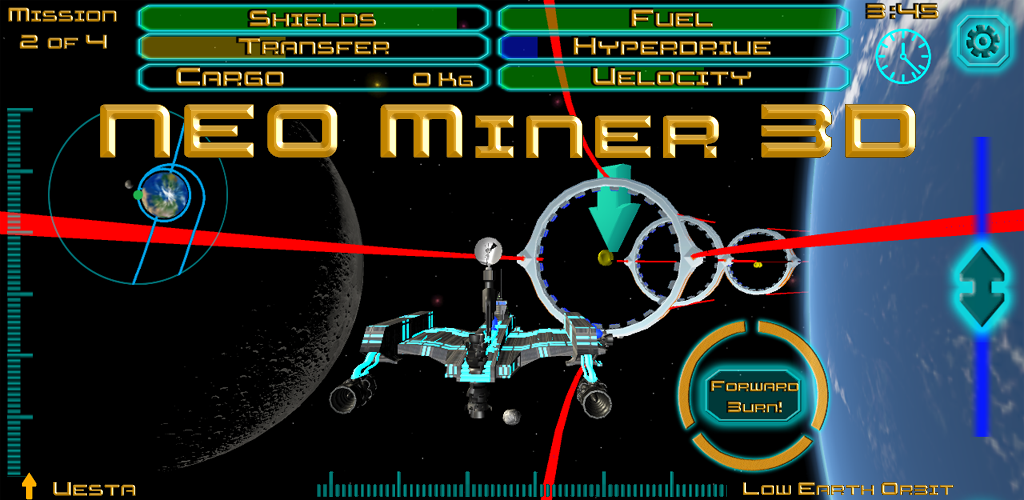 NEOMiner3D
A downloadable game for Windows and Android
GamePlay tip: You must sell at least half the ore in your cargo hold to start the next mission in a game.
You are a freighter pilot for the Orbital Mining Corporation (OMC). Earn your stripes executing orbital transfers from earth to one of eight near earth object asteroids, filling your cargo hold from low orbit and making back to earth orbit in one piece.
Sell your ore wisely Miner, the economy of space material is variable and prices can change drastically from one mission to another. OMCs research experiments, global ore supply, and new discoveries can send prices plummeting or sky rocketing, mine low and sell high!
Earn credits to unlock new asteroids with new materials, larger ships with powerful electromagnetic or gravity rakes to mine more valuable ore and larger cargo holds to safely ferry it all back to Earth.
But be wary miner, the routes are often treacherous and always remember:
Space Never Forgives
----------------------------------------
One part game, one part simulator:
Gameplay
Execute orbital transfers and complete 4 round trip journeys from Earth to one of many Near Earth Object asteroids. Transfer to each successive orbit as close to the target as possible to gain extra bonuses! Fill your cargo hold in low asteroid orbit and sell your ore for changing prices once you make it back to earth.
Keep an eye out for stray space rocks, black holes, asteroids, solar flares, ion storms, and drastic ore price changes!
GamePlay tips:
- Try to stay in the middle of the navigation rings, especially on low to high and transfer orbits, the speed of time will increase and make the trip shorter.
- Thrust your ship left, right, up, and down by tilting or touching and dragging in the direction you want to go.
- The right hand thrust slider should be used to adjust your forward velocity in the case of a major obstacle impact that knocks you backwards. An orbiting body will fall towards the planet if the forward velocity is reduced, so speed up. If you are going too fast, you will go into an elliptical orbit, so put on the brakes.
- Watch for upcoming transfers; your transfer indicator will flash and a transfer button will appear showing a forward or reverse burn coming soon.
- Hit the transfer button as close as you can to the target arrow without missing it. The big transfer orbit can go pretty quick so be ready! The closer you hit the transfer button the larger your transfer bonus! Missing the target puts you immediately back on course with no bonus.
Simulator
Resize the solar system, change the size of planets and asteroids, and send them spinning wildly around their orbits! Change from deterministic (always in a circle) to gravity based, shrink or grow the solar system, and watch chaos ensue!
Or start a gravity slingshot and zoom your ship in an arc by Earth, Venus, or any other inner solar system orbiting body. Switch between a view of the solar system with your ship orbiting around the sun, or jump into the cockpit and fly the slingshot in 3D! Pull back on the thrust and try to turn yourself into another orbit watching Venus go flying by in the foreground.
Purchase
In order to download this game you must purchase it at or above the minimum price of $2 USD. You will get access to the following files:
NEOMiner3D.apk (Android, No Ads)
131 MB
NEOMiner3D_WinX64_v204.zip (Windows, No Ads)
103 MB
if you pay $5 USD or more
Also available on